Frequently Asked Questions
Traveling Russia by train is an exciting experience. Russia boasts a developed modern rail network, which provides a comfortable and fast transit between the cities. However, for an ultimately worry-free and pleasant experience, the trip demands careful preparation. But don't worry, to help make the process simpler, Russian Train Tickets has prepared answers to some of the most frequently asked questions by travelers: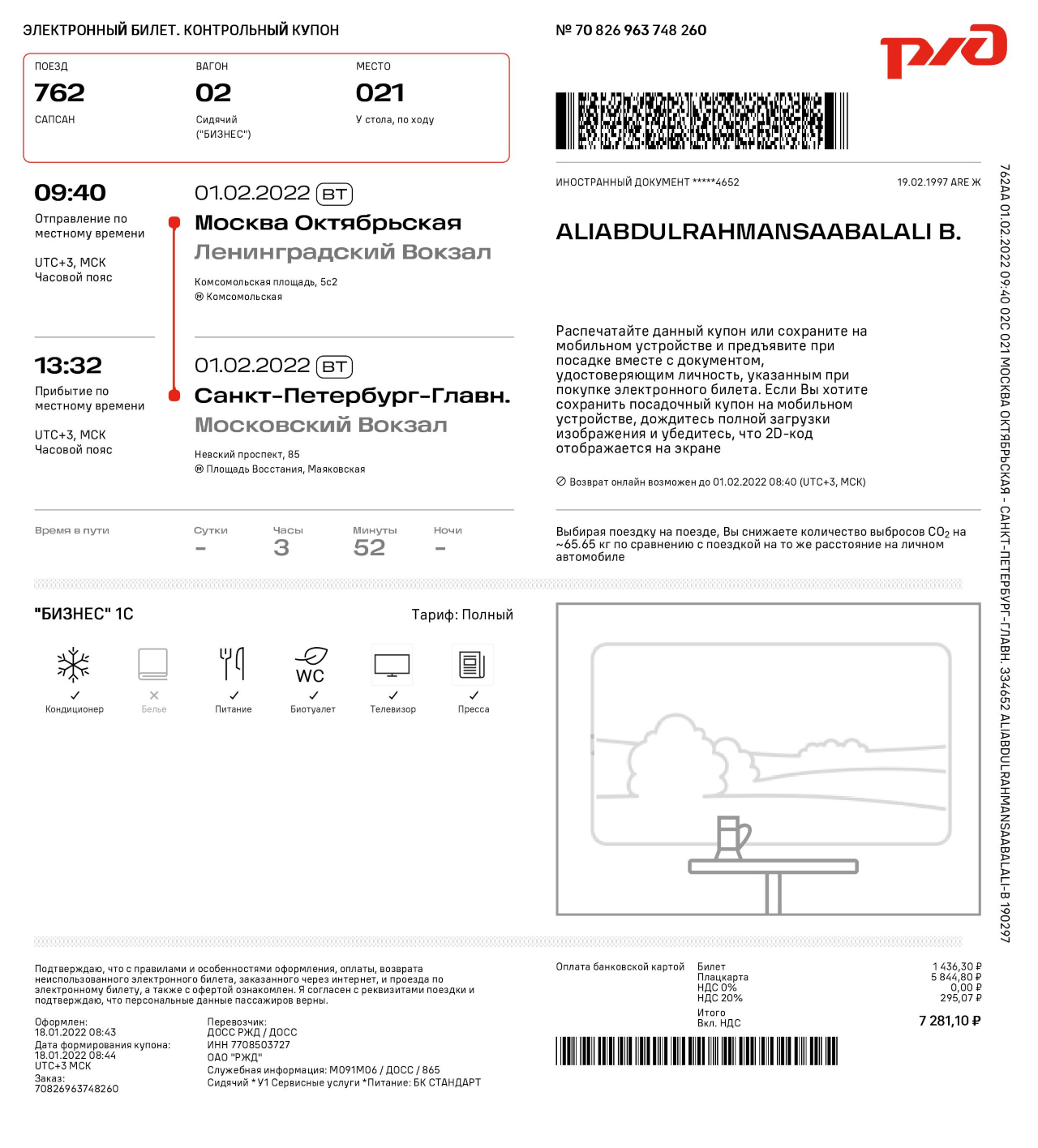 When can I get my ticket?

If you book a ticket in 89 day period before your trip, we will need 24 hours for processing the order and issuing your ticket. When a reservation is done more than 89 days before departure, the ticket will be sent as soon as seat assignment is possible on the train.




As for paper tickets, tickets for traveling between Russia, Mongolia and China can be issued 59 days before your departure. For some other internal routes in Russia we are able to provide your tickets from 44 till 59 days prior to your travel date. Note that you will have to collect your paper ticket to board the train using such options as worldwide delivery, pick-up in Russian hotel or from our St.Petersburg office.




After making a reservation on our website, you will receive an email with a confirmation, which means that we just received your information in the system. You will receive an e-mail with a confirmation that the ticket is available only when we are able to secure your tickets.
How can I pay for the ticket?

Payment can be performed with all major credit cards including Visa, Mastercard and Discover as well as American Express credit card by using your PayPal account. Moreover, paying for the train tickets on our website, you won't be charged the transaction fee as the bank of the payer charges it from our company.
What if the payment failed?

Since we accept all credit cards, it's likely that the payment has failed on the side of the bank. If you are sure that you have enough balance on your credit card and fulfilled the authorization procedure, please contact your bank to find out about the reason of payment failure.
Are any modifications of tickets possible?

We can arrange modifications of electronic tickets only if modification request is submitted no later than 3 business days before your travel date. After past this deadline, ticket modification can not be guaranteed.




In case you want to modify your tickets after the deadline, you will need to book new tickets and to return the old ones directly at the railway station to claim a refund.




For any modifications to issued tickets an additional fee will be charged. The standard modification fee is 40 USD per ticket.




Changes to paper tickets can be performed only if they are returned to our office no less than 10 days before departure.
How can I read the ticket if it is in Russian?

When booking a Russian train ticket, you'll get an e-ticket in which the majority of information is in Russian. Here are some tips how to read your ticket:

Your ticket number is indicated on the very top of the E-ticket (№).




You can find the departure date in the top left part of the ticket under the red outlined box with the information about you train, coach and seat. Both are written in the DD.MM format.




The departure and arrival time is indicated left to the departure and arrival date accordingly. Keep in mind that both the departure and arrival time are always written in local time and then duplicated in Moscow time below.




You can find your departure and arrival stations under the departure and arrival date.




Find out more how to read Sapsan tickets.
What is the permitted luggage size?

There are no strict limitations on how much luggage a traveler can take on a Russian train. However, the weight of carry-on luggage is not to exceed 36 kg (may be 50 kg in sleeping coaches with double compartments) and the hight is no more 90 cm.
What to do if I missed my train?

You should contact us in order to book a new ticket or buy a new one on the railway station.




You can try to get some refund for the ticket at the railway station. To do that, you should get to the Ticket office with your passport or ID and the ticket and tell the cashier that you missed the train: "Я опоздал на поезд. Мне нужно вернуть билеты и получить деньги" ("Ya opozdal na poezd. Mne nuzhno vernut bilety i poluchit dengi"). Unfortunately, the majority of cashiers don't speak English, so some misperception can occur.
Is it possible to place an order without all travelers' details mentioned?

While booking, it is possible to select an option of providing passenger details later. If it is less than 89 days before your departure, you'll be asked to fill out the travel card within the following 48 hours. Beyond these timeframes, ticket availability and prices are subject to change.




In case you do not provide the details within 48 hours, we will cancel your order with a 10% fee of the paid amount, no less than 10$ per ticket.